I was thinking about signing up for the U Can Finish 2 mile race at my old school, the University of Central Florida (aka UCF, aka "U Can't Finish"), this Sunday, but then I overheard some co-workers using words like "Storm of the Century" and "Category 5."
I went over to Weather.com to confirm, and sure enough, something wicked this way comes on the 23rd.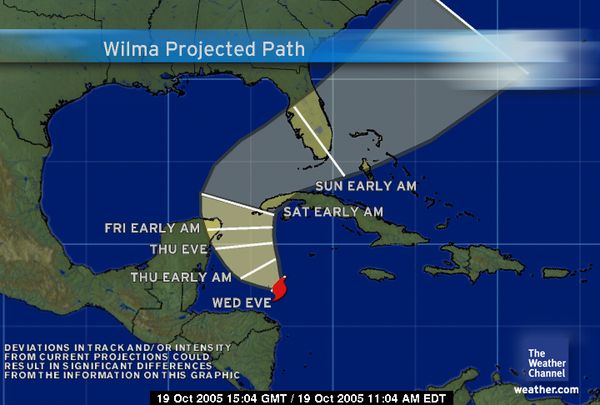 I hope I don't lose power. My backup workout plan was a 60 minute Yourself Fitness session or a round of Yoga X, and both require electricity. My fridge is also stuffed to the gills with fruit, veggies, chicken, and other healthy perishables thanks to my overenthusiastic grocery sale shopping these past two weeks.
Sigh.
===========
Nutrition: Training Day Menu
(SGX nutrition details omitted by request of trainer)
1: 1 slice carrot-raisin bread, 3×1 spinach omelette
2: Hawaiian chicken oat bran pita pizza
3: PWO dextrose/whey/Creastack shake
4: Hawaiian chicken oat bran pita pizza
5: SGX Meal
6: SGX Meal
Daily Supplements: multivitamin with iron, calcium 500 + D, 1 T. flaxseed oil or natural peanut butter
Water: 16 cups minimum
===========
Workout:
7:00 AM YF lower body (40 minutes)
12:00 PM Legs/Glutes (45 minutes)
===========
The Awful Truth:
1. Not enough sleep! 🙁
===========
Brownie Points:
1. 13/31 Perfect LMH Challenge Days
2. Had a great upper body workout yesterday. DOMS is back in a big way.
3. Made some pita pizzas and froze them.
===========
Short-term Goals:
1. Update HandBase workout module.
2. Organize desk.
3. Read a few chapters from NASM book.
4. Choose pattern and sew Halloween costume.
5. Defrost and grill more chicken breast and legs.
6. Make some TVP burger patties and freeze them.
7. File new papers.