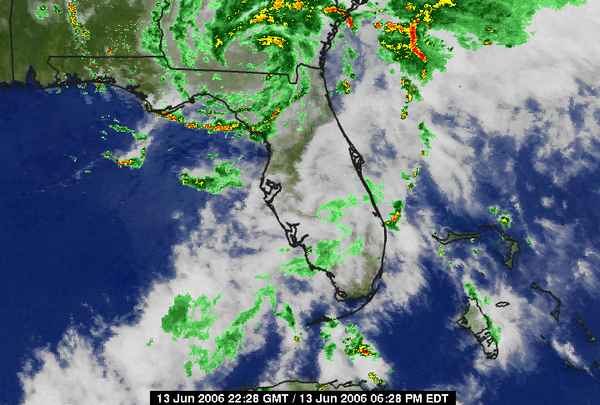 So I guess I should disable the timers on my soaker hoses for the next few days, eh?Chris and I went on a road trip up to Marietta, Georgia to hang out with his father's side of the family for his father's 64th birthday. We drove up on Friday in my new (used, 52k miles, $10,500, will-be-paid-off-by-October-2007) 2002 Camry, spent Saturday on his brother's posh houseboat, ventured out to IKEA in downtown Atlanta and saw Disney/Pixar's Cars on Sunday, then motored back home yesterday.
All the while the lovely storm pictured above was meandering toward the coast of Florida, preparing, apparently, to dump about 50 gallons of water directly on my collection of container plants.
Mind you, we had set up a snaking length of soaker hose ($10.49 at Costco for 100 ft.) that would drip into each container and flat for 10 minutes every morning while we were gone, so the plants were already sufficiently watered. The wall of water that hit just as we got home around 4:30 pm yesterday was, at the very least, overkill.
When I get caught up with laundry, cooking, fitness planning, and hooking up the triple rail Kvadrik curtain panel system I acquired at IKEA, I have about two dozen plants to re-stake, re-pot, and generally help recover from being flattened by Alberto's rains.
And yes, my monster tomato plant did fall over. Again. Sigh.