1/20/08 UPDATE! The cruise plan has changed slightly due to a significant price increase in the original Carnival cruise. We are now sailing on the Royal Caribbean Sovereign of the Seas on 8/15/08. Please read this entire post for all of the details.
Want to go on a fun-filled, three-day cruise vacation to the Bahamas where the only thing you have to worry about is whether you'd rather go snorkeling or swimming with the dolphins in Nassau? Have you ever wanted to meet all of the great people who have become your online workout buddies and diet partners — in person?
Me, too!
I've been lucky enough to meet a handful of online fitness/nutrition friends from the central Florida area in person a few times over the past four years, and each time I always had so much fun that the event (usually just a single annual cheat meal dinner) would just fly by. You get a bunch of us together and nobody ever runs out of stuff to say, seriously.
The only bad part was that there was never enough time to talk to everyone and just chill out in the 3-4 hours of restaurant dinner we normally had. And with people often flying into Orlando from all over the country, a single cheat meal just didn't seem to be worth it.
Enter the 2008 Fitness Geek Cheat Weekend Cruise idea…
For 2008, I thought it was time to shoot for something a little more ambitious than a single dinner — like a 3-day group cruise! After all, those chipper Body-for-Life folks do a BFL-specific cruise every year in May…why not organize one for those of us who are getting fit using our own mix of programs, not just BFL?
I called up a local travel agent for details. All we needed to get a discounted group rate was a minimum of 10 dual-occupancy cabins. Where would I find 20+ people who would want to participate in group workouts, active excursions, a meet and greet party, lots of good eats, fitness/nutrition round table discussions, sunbathing, cheesy shows, dance lessons, onboard rock climbing, duty-free shopping, and nightly karaoke, AND be able to hook me up with emergency protein powder and fish oil caps in case I ran out?
Clearly we'd have to recruit from all over the online fitness community!
---
2008 Cruise Details
---
The cruise is open to members (and guests) of the Booty Kickers UC group at eDiets, the Pink Dumbbells women's fitness community, and the John Stone Fitness forum community. Heck, if you are part of the greater fitness blogging community and a regular reader of my blog or Kyra's blog, you are welcome, too!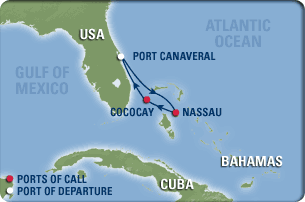 Destination: Bahamas (Nassau)
Cruise Line: Royal Caribbean
Date: Friday, 8/15/2008 (Returns early Monday, 8/18/2008)
Cruise Length: 3 Days
Port of Departure: Port Canaveral (Orlando), FL
Ship: Sovereign of the Seas

(Photos – Overview – Activities)

Price (Includes meals, accommodations, shows, port fees, taxes, fuel surcharge and prepaid gratuities. Transportation/airfare to port, excursions, and onboard extras not included.): $372.90 per person (inside cabin) or $417.90 per person (oceanview cabin)
Deposit: $100 per person (Due March 28, 2008 in order to reserve your cabin, but fully-refundable through 5/30/2008 in case your plans change. The balance of the cruise fare is due on 5/30/2008, so you have almost 5 months to save your pennies!)
Itinerary and additional details at Royal Caribbean
---
Ready to Cruise?
---
Here is the travel agent's contact information if you have any specific questions not covered here. To qualify for a group discount we need a minimum of 10 cabins (dual occupancy) and tickets must be booked as part of the "PDB" group.
Mary Delello
All About Travel
(407) 677-5500 (If you are in the Orlando area)
(800) 500-7478 (Outside central Florida)
sales@allaboutvacations.net
Mary has reserved a block of 12 cabins for us on this cruise. If you are ready to commit (remember, you will need to place a $100/person deposit by March 28, 2008 to lock in your cabin!), please contact her via email or phone and mention that you are with the "PDB" (or "Pink Dumbbells") cruise group. The cabins will be first-come, first-serve, so please get your name on the list early if you are interested.
---
More Cruise Talk
---
Check out the ongoing cruise discussion threads at
Pink Dumbbells
and
JSF
to see who else is planning to be there!