Sleepy morning for me. I woke up at 6 am, took care of the kitty litter, took the trash out before the truck came by, then fell back asleep until 8:30.
Whoops!
Off-topic to my fellow cat-loving readers: Does anyone else's cat impatiently wait directly behind you when you are scooping, and immediately step inside the newly-cleaned litter box to stake his/her claim, or is that just my Neville? He also, immediately after taking care of business, spends about 10 minutes spazzing out and tearing around the house, through the kitty flap, around the patio, and back again yodeling "Ow-ruh! Ow-ruh! Ow-ruh!" like something scary attacked him while he was in the box. I suspect that his own poop baffles and terrifies him.
Crazy feline.
Well, I stayed clean on food today as penance, and I did run/walk intervals for 30 minutes during my lunch break in lieu of the missed skate this morning. Yoga and TT core to follow tonight when I get home from work.
Chris gets back tonight from Tallahassee, so my blissful solo evenings at home watching LA Ink and Project Runway while doing crunches and planks on the living room carpet are over for now.
Speaking of Project Runway, does anyone else watch? I cannot believe they booted Kevin last night (his dress wasn't as disastrous as Christian's or Ricky's…or even the winner's) AND gave the win to that hideous bubble-skirted, electric blue, bejeweled babydoll monstrosity that Victorya put out. BLARGH! Bubble skirts and babydoll silhouettes are not hot on anyone, no matter how in shape, stick-thin, or confident they are. That dress made her client (a slim high school track gal) look like a boobless, slouching blue popsicle complete with two sticks coming out of the bottom.
Observe:

I think this one by Chris (whom I am soooo glad they brought back the other week)…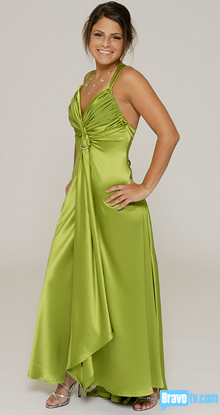 or this one by Sweet P…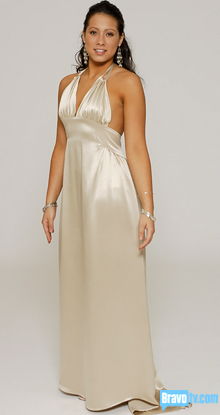 were much more worthy of a win.
The rest of the prom dress designs can be found here.
=======================
WORKOUT
=======================
– Outdoor interval run/walk (32 min)
– YF Yoga (30 min)
– TT Core Beginner (15 min)
=====================
NUTRITION
=====================
M1) 60g raisins and oats, 3 egg whites, 5 pieces preserved radish with chilis
M2) 1 small banana, 1 mandarin roll
M3) 3 oz. grilled peppered chicken breast, 1 mandarin roll, 1 c. asparagus veggie mix
M4) 1/2 c. 1% cottage cheese, 15g walnuts, 1/2 c. mixed berries
M5) 3 oz. BBQ pork tenderloin with diced tomatoes, 3 c. garden salad, 2 T. low fat dressing
M6) Chocolate soy protein shake and 15 g. walnuts
Est. Calories/Ratios: 1440 calories, 43.5% carb / 36.9% pro / 21.3% fat
Supplements: multivitamin, calcium 600 mg + D, vitamin C, 5g l-glutamine, 3 fish oil caps