I only got in half of my workout this morning due to time constraints (I have to get to work early on Wednesdays for the next 6 weeks in order to leave early enough to get to the colored pencil drawing class I'm taking with my dad on the other side of town), but I have brought my bokken with me to work so I can do 30-45 minutes of Forza during my lunch break. If the class tonight doesn't run too late, I'll finish up the rest of my TT workout when I get home.
I'm pretty hyped about this class. I haven't taken an art class in over 6 years (and have always been largely self-taught anyway as my practical parents wanted me and my sister to focus on "real" studies like math and English through high school), and I've always wanted to give colored pencils a try. While I have always done some traditional pencil drawing, all of my coloring is done digitally in Photoshop or Paint Shop Pro. I also bought Painter a few years ago, but still haven't gotten around to learning the software. Around 2001, I took Painting I in college and was told that I wasn't too horrible at oils considering that I had never painted before, but I haven't picked up a paint brush since then. I think I am color-phobic with real, non-digital media.
I hope that taking this class with my father in tow will inspire both of us to pick up a portable, rewarding new hobby. I've been pushing only pixels around too long now at work. It's time to relearn the joy of taking a pencil to real paper again.
Here are some pieces from my past:
Eagle (Charcoal on 11″x14″ paper)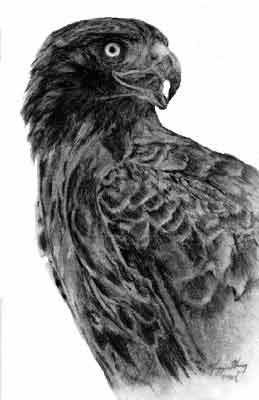 Aspect of Fate (Graphite drawing; Photoshop colors. Available as stationery products from Ellen Million Graphics.)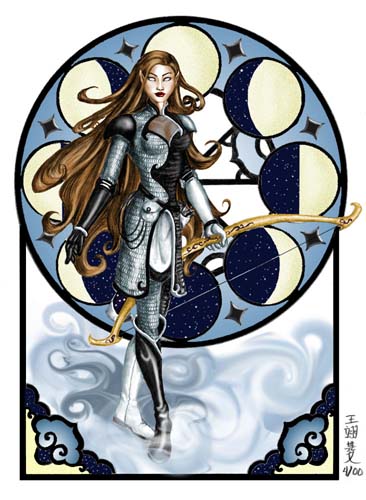 Still Life (Oil on canvas. This was my first painting…EVER. It's not very exciting, but I still like it for nostalgic reasons.)

Summoned Creatures Concepts (Graphite on paper)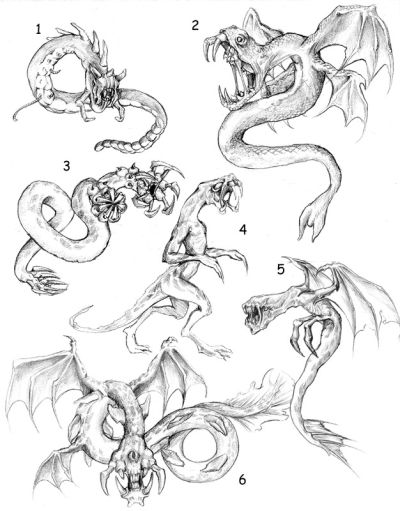 =======================
WORKOUT
=======================
– TT 2K3B (40 min)
– Forza (30 min)
=====================
NUTRITION
=====================
M1) 53g Go Lean Crunch, 1/3 c. light soy milk, 3 egg whites
M2) Homemade trail mix (1/2 oz. walnuts, 20 g raisins, 1 dried apricot, 1/4 c. Fiber One cereal)
M3) 4 oz. Creole seasoned chicken breast, 1 c. veggie mix, 1/2 c. Kashi 7-grain pilaf
M4) Chocolate banana protein smoothie
M5) 4 oz. chicken breast, 1 c. veggie mix
M6) 2 protein fudgsicles, 1/2 oz. walnuts
Est. Calories/Ratios: 1429 calories; 40% carb / 41.5% pro / 23.4% fat
Supplements: multivitamin, calcium 600 mg + D, vitamin C, 5g l-glutamine, 3 fish oil caps