Hmm…not much to talk about today on the fitness front. I woke up too late for an AM skate, and I had a lot of work to do at the office. I stayed until almost 9 PM to finish up my tasks for a milestone build going out Friday in order to take my birthday off.
Eats were clean. AM weigh-in was 143.2 lbs.
Now let's talk about the wonderful new gadget I received yesterday, the Furminator de-shedding tool. I caved into the impulse to order this from Amazon on Monday when cleaning out the lint trap of my dryer and home after a load of sheets and a duvet cover produced a 1″ thick mat of tabby hair that could honestly be used as a mattress for a guinea pig. Cleaning up one of Slinky Wang's hairball surprises last week was also pretty motivating.
I have two cats. They have short, black and brown tabby fur that seems to wind up on everything no matter how much I brush them. When you give Neville a head scratch, about 30 loose hairs from his undercoat get worked up to the surface and are summarily left behind in a drifting cloud when he finally has enough and bolts away. Slinky is my fastidious groomer. He is always washing himself AND Neville, which is probably why he is also my primary hairball culprit.
Regular brushing with a slicker brush helps, but not enough. The boys still left kitty-shaped silhouettes of shed hair in all of their favorite lounging spots.
I was a bit skeptical of the claims on the Furminator site that shedding was reduced by 90% by the tool, but the rave reviews of the Furminator de-shedding comb on Amazon and Stuffonmycat.com convinced me to shell out the money for it.
I rushed home after my art class Wednesday night and immediately attacked Slinky with it. He started purring immediately and rolled around like he always does when I just the slicker brush on him. Clearly the Furminator was a winner with my older cat. He let me work on him for almost 10 minutes, even turning over to his other side to let me get those areas, too. Neville also seemed to enjoy his first Furmination, but he got squirmy after about 2 minutes and had to run around the house like a hyper 2-year-old.
Kitty enjoyment aside, did the Furminator work?
Well, check it out: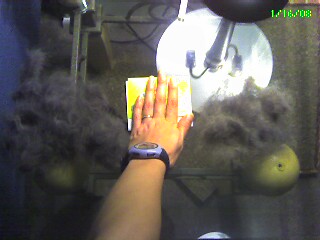 Slinky's pile is on the left, and Neville's is on the right. I think Neville has more of an undercoat than Slinky since that pile had come from only 2 minutes of combing. I am waiting to catch him napping to finish the job.
Who knew that sleek, short-haired cats had so much loose, trapped hair on them?
=======================
WORKOUT
=======================
– Walk (30 min)
=====================
NUTRITION
=====================
M1) 60g oatmeal and raisins, 3 egg whites, 5 slices chili radish
M2) Homemade trail mix (1/2 oz. walnuts, 20 g raisins, 1 dried apricot, 1/4 c. Fiber One cereal)
M3) 3 oz. tilapia, 1 whole egg, 1 c. veggie mix, 1/2 c. Kashi 7-grain pilaf
M4) 3 rice cakes, 1.5 T. ANPB
M5) 4 oz. chicken breast, 1 c. spinach, 1/2 banana
M6) 1 c. Go Lean Crunch, 1/3 c. light soy milk, 1 scoop protein powder, 3/4 c. veggies
Est. Calories/Ratios: 1617 calories; 49.3% carb / 31% pro / 24% fat
Supplements: multivitamin, calcium 600 mg + D, vitamin C, 5g l-glutamine, 3 fish oil caps