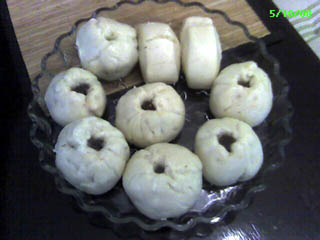 This is a protein-fortified version of one of my favorite Asian snacks: the Chinese steamed bun filled with red bean paste. It uses vanilla gemma (pea) protein isolate (available at a very reasonable price from TrueProtein.com) to boost the protein content of this low-fat, satisfying post-workout snack. Gemma protein forms a fluffy, non-stick paste when mixed with water, and it has a natural bean-like flavor that is very similar to traditional sweetened Chinese red bean paste.
Preparation takes around 4 hours, but you can mass produce several batches of these in one marathon session on a Sunday afternoon and freeze all of your extra buns for future use. They will keep in a sealed plastic bag for several months, and restore very well with re-steaming or microwaving in a damp paper towel for 1 minute per bun.
The dough recipe can be safely doubled without adding any additional yeast, and also tastes great all by itself with no filling as a carb portion. You can also add savory fillings like BBQ pork, chicken, vegetables, etc.
Red Bean + Protein Paste

INGREDIENTS

* 3/4 cup Beans, adzuki, dry (small red beans– hoong dul)
* 5 scoops Protein powder, gemma isolate
* 1/4 cup Sugar, brown, packed, 7.8 oz per cup
* 1 cup Water

DIRECTIONS

1. Wash the beans, cover with cold water, and soak overnight. Drain beans and discard water. Place beans in a 1 1/2-quart saucepan, add 3 cups cold water, and bring to a boil over high heat. Cover, reduce heat to medium-low, and simmer 1 hour, or until very soft. Monitor the pan to make sure water doesn't dry up. Drain and discard the water.

2. Place the beans in a food processor and process until smooth. Add brown sugar, water, and gemma protein powder and process until just combined. (If you don't have a food processor, a potato masher or a blender can be used. Extra water might be needed with a blender.)

3. Divide bean mixture into 10 portions.
Chinese Steamed Bun Dough

INGREDIENTS

* 1 package Yeast, baker's, dry, active, 1/4 oz per package
* 1/4 cup Flour, wheat, white, all-purpose, enriched
* 1 tsp. Sugar, white, granulated, 1/7 oz per teaspoon
* 1/4 cup Water

* 2 cups Flour, wheat, white, all-purpose, enriched
* 8 packets Splenda (or 3 T. Sugar, white, granulated)
* 1/4 tsp Salt, table, 1/5 oz per teaspoon
* 1/2 tsp baking soda
* 1 tbsp Oil, vegetable
* 1/2 cup Water
* 1/2 tsp Baking powder, double-acting, straight phosphate, 1/6 oz per teaspoon

DIRECTIONS

1. Mix together yeast, 1 teaspoon sugar, 1/4 cup flour, and 1/4 cup warm water. Allow to stand for 30 minutes.
2. Mix in 1/2 cup warm water, flour, salt, baking soda, 6 packets of Splenda (or 2 tablespoons sugar), and vegetable oil. Knead until dough surface is smooth and elastic. Roll over in a greased bowl, and let stand until triple in size, about 2 1/2 to 3 hours.
3. Punch down dough, and spread out on a floured board. Sprinkle baking powder evenly on surface, and knead for 5 minutes. Divide dough into 2 parts, and place the piece you are not working with in a covered bowl. Divide each half into 5 parts. Shape each part into a ball with smooth surface up and flatten into a round patty about 4.5″ in diameter and 1/2″ thick.
4. Spoon one portion of the bean mixture into the center of each dough circle, then bring up the edges of the dough to the top of the ball of bean paste and pinch them together, leaving a small 1/2″ hole to allow the steam to escape. Put each ball on a wax paper square. Let stand covered until double, about 30 minutes.
5. Bring water to a boil in steamer pot, and reduce heat to medium; the water should still be boiling. Place steam-plate or a dampened cheesecloth or broadcloth on the steamer section of the pot. Transfer as many buns on wax paper as will comfortably fit onto steam-plate leaving 1 to 2 inches between the buns. Cover steamer with lid. Steam buns over boiling water for 15 minutes.
6. REMOVE LID BEFORE you turn off heat, or else water will drip back onto bun surface and produce yellowish "blisters" on bun surfaces. Continue steaming batches of buns until all are cooked.
Servings: 10 buns
Calories: 232 calories
Carbohydrate: 35.8 g
– Fiber: 2.59 g
– Sugar: 8.23 g
Protein: 17.7 g
Fat: 1.9 g