A few months ago reader Scott Rhamy sent me a link to a P90X workout log spreadsheet he had enhanced and ported over to Google Docs from the original Excel sheet created by Damon which is no longer online.
I haven't had the chance to look it over very well until now, but since I just loaded up the P90X Chest and Back workout tonight for some variety, I decided to revisit the spreadsheet.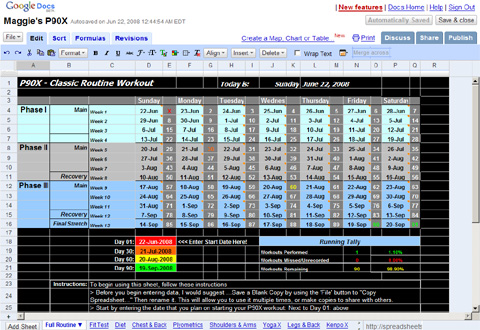 After filling in some of my information and digging around a bit, I have to admit that this is one handy spreadsheet. It will track your reps and weights on resistance days and workout completion/heart rate on cardio and flexibility days. There is also a sheet to log your starting and ending fit test scores as well as fields to link to your progress photos on the Picasa online photo gallery. A body fat calculator based on caliper measurements and a circumference measurement table are also included.
For those of you following the P90X nutrition plan, there is also a Diet worksheet that allows you to log the number of portions you eat each day in the permitted food groups. The logs are divided into three phases with the recommended portion numbers adjusted for each phase. Your calorie level is also calculated for you based on your starting weight.
There are no pretty graphs for the more visually-oriented of you, but as a whole, this is a great spreadsheet for logging your P90X workouts, and best of all–it's free!
To use the spreadsheet, you will need to click on the File button on the upper left and either click "Copy Spreadsheet" to save it under a new name in your own Google Docs account, or "Export" > ".XLS" to save it to your own computer in Excel format.
Check it out!