Today I am combining my long-standing love for office products with my compulsion to make charts to track all things related to fitness, and I am going old school and low-tech in the process.
I decided to turn the $2.25 Paperchase clearance journal I picked up at Borders this weekend into an ongoing, handwritten workout log book that should last me at least a decade if I average one page (front and back) per month of workouts. I've tried logging in spreadsheets on my computer, online at Google Docs, and in workout applications and custom databases on my Treo. I've also used print outs of computer-generated log sheets authored by myself and others for a while, but this has just resulted in a ton of loose paper all over the place or disjointed digital files in three to four different locations. I have multiple copies of the same paper sheets (printed because I couldn't find the first or second set) and multiple copies of the same digital logs in various stages of completion. It's hard to gauge progress when one's workout records are so disorganized and there is no real sense of progression from one program to the next.
I think there will be something very satisfying about having all of my future workouts in one neatly-bound spiral workout journal.
It helps that the journal has graph paper pages instead of blank or lined ones. To really seal the deal, I am assigning my favorite refillable ball-point pen to permanent workout log duty as of today.
Behold! The perfect (not to mention cheap and freakishly decorated–check out the anorexic zombie party girls on the cover!) journal matched with the perfect pen.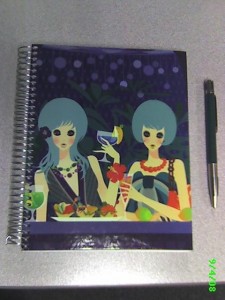 Quite frankly, I just want to hug them both to my chest and SQUEEEEEEE! with delight.
(I did mention that I have something of an office product fetish, didn't I?)
============================
TODAY'S EATS
============================
1. 60g raisins and oats, 1/2 c. spinach, 3 eggs, 1 whole egg, 1 T. ketchup
2. 3 oz. chicken breast, 1 c. mixed veggies, 1 large nectarine
3. 1/2 T. cocoa, 1/2 c. 1% cottage cheese, 1 packet Splenda
4 2 rice cakes, 1 T. ANPB
5. 3 oz. chicken leg, 1 c. mixed veggies, 1 small apple
6. 3 oz. flounder, 1/2 c. spinach
Water: 16 cups
Supplements: multivitamin, calcium 600+D
============================
TODAY'S WORKOUT
============================
* HIIT Run (20 min)
* YF Cardio (30 min)
* 100 PU W1D2 workout (10 min; 55 reps max)