I'm going to be terribly ADHD this month and switch programs mid-month. I just got BeachBody's ChaLEAN Extreme program (retail price $119.95) yesterday, and given how packed my gym has been this month and how little free time I have, the 30-minute workouts in the package are very appealing to me right now. Despite the admittedly goofy name, the program actually focuses on heavy strength training for 30 minutes three days per week in combination with more cardio-based workout sessions on off days to produce results. It also comes with a nutrition plan with 80+ moderate carb recipes divided into three phases to match with the three month-long workout phases of the program: Burn, Push, and Lean.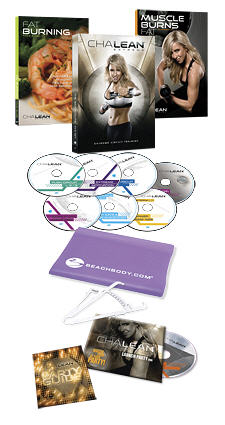 Workout preferences for me are kind of cyclical, and at this time I am just not feeling motivated to do 60-minute workouts of any kind. This is killing my motivation to commit to another round of RCR-style circuit workouts, even if they ARE with heavier weights, and it's also making a full cycle of P90X (which also runs 60 minutes per workout on average) really unappealing. Frankly, I'm unenthusiastic about my workouts this month, committed to a LOT of non-exercise projects and work, and ready to stop thinking so much about things and just go on autopilot for a couple of months. ChaLEAN Extreme looks like it is a step down from P90X in difficulty and intensity, but higher than the Turbo Jam, Hip Hop Abs, and Slim in Six BeachBody products. The lifting tempo appears to be slower than what is used in P90X, and the rep range is 10-12 reps for most exercises. Looking at the calendar, the workout schedule includes 3 strength circuit days, 2 interval style cardio days (one also includes ab work), and 2 rest days per week.
I'm reinstating my lunch break walks at a minimum, with skating on days when I feel the urge and the weather is dry. I'll start the ChaLEAN Extreme program with the fitness assessment and first Burn phase 1 workout tonight and schedule in the rest of the program in my workout journal. I have to finish reviewing the diet and workout schedule during my lunch break, but hey, I can do that while walking. 😉 If the diet seems reasonable, I will give it a go with some protein source substitutions to keep it more in line with my semi-vegetarian goals for this year.
So here we go with the contents of the ChaLEAN Extreme basic package:
5 Workout DVDs and an instructional DVD to show you proper lifting form with free weights and resistance tubes (in a thin pak folder with an additional empty slot in case you purchase the add-on workout disc)
"Muscle Burns Fat™" Guidebook – This is a printed book, not a digital file, and contains an overview of the program, the reasoning behind its design, lots of convincing verbiage about the importance of lifting heavy weights to build muscle which will in turn burn fat, motivating before and after photos of the most dramatic transformations from the program's test group, workout calendars showing exactly which workouts to perform for the three transformation phases of the program and the ongoing maintenance phase, pages for your progress photos and stats, and exercise descriptions and photos.
Fat Burning Food Guide – Another printed book that includes 80+ recipes, the ChaLEAN Extreme three-phase nutrition plan, and lots of pretty pictures of some tasty looking high-protein meals
Fat Calipers – These come with an instruction card printed with male and female charts for determining body fat from a single suprailiac skinfold.
Thigh Toner Band – Looks like a giant flat rubber band about 6″ wide. I've seen similar items sold in the pilates section of Target.
Chalene's Personal Motivational Audio CD – More explanation about how Chalene Johnson came to design this program as she hit her mid-30s and discovered that her body was changing — heavy cardio-style workouts were not enough and building muscle became key to keeping her metabolism fired up. Also includes motivational "You can do it!" messages, a list of behaviors that fit people exhibit, and strategies and tips for getting past roadblocks.
"Healthy Eats" and Kitchen Makeover DVD (on the same DVD as the workout instruction videos) – Tips and techniques for cleaning up your eating and kitchen as well as low-key ways to eat on plan at any restaurant.
The DVD folio, Muscle Burns Fat guidebook, and Fat Burning Food Guide all fit into a handy cardboard slipcase to keep everything tidy and in one place.
Additional equipment needed for the workouts is pretty basic: Pairs of 5-30 pound dumbbells for women and 12-40 pound dumbbells for men, or the equivalent in resistance tubing (the kind with handles). I'll be using my adjustable Powerblock dumbbells, and the folks in the videos appear to be using Bowflex SelectTech adjustable dumbbells. Since the instruction video didn't show anyone doing pull-ups or chin-ups as they do in P90X, I'm assuming that this program does not integrate those exercises.
I'll get my starting stats this weekend and post my impressions of the Burn phase of the program as I complete each workout this week.